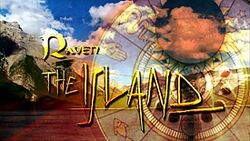 Raven: The Island is a CBBC children's adventure game show, and the first spin-off to the main series, Raven.
It comprises one series, initially airing in 2006 on the CBBC Channel, and then during CBBC on BBC One. In this series, warriors compete as teams and attempt to complete the many challenges on the island of Alaunus, retrieving timepieces in the hope of defeating the evil Nevar.
Plot
Raven: The Island sees the Island of Alaunus, Raven's homeland as a child, come under control by the evil force of Nevar and his demons. Raven has been exiled from the island, and so his close and trusted childhood friend Princess Erina, assists Raven's young warriors in their quest, with the help of her companion, Haryad.
Their only hope of restoring the Island lies with the three teams of four warriors, who must travel to the island and towards the ruined fortress that once belonged to Erina's father, collecting timepieces along the way that Nevar, unable to destroy them, has attempted to hide in perilous traps and challenges. Using the timepieces, together with an upcoming solar eclipse, they must then enter the fortress and take an acorn from the Great Oak, stolen and locked away by Nevar to cut new Staffs of Power for his elite demons, so that a new tree may be planted away from the island, far from Nevar's dark domain.
Contestants
RTI had the lowest number of contestants ever in a series of the show (12 warriors in all) participating. This was the start of the spin-off tradition of having the warriors split into animal-based teams (in this case, the Lions, Eagles and Wolves), distinguishable by the colour of their warrior garb.
However, unlike other seasons, the warriors' garb was two-coloured (see below), and if a warrior was eliminated in a challenge, they couldn't be brought back. At all. Ever. This was a very radical departure from what happened in the main show, or in subsequent spinoffs.
The colour scheme for the warriors worked with a major colour (the colour of their warrior shirt and pants) and a trim colour (what colour bags they carried with them). The trim colour also determined the colour of the background of the flag their leader carried (the foreground was a head of their animal group name).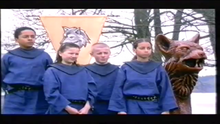 Wolves (wore blue with yellow trim)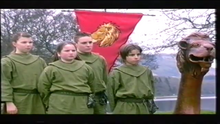 Lions (wore green with red trim)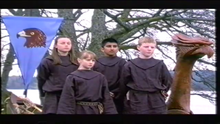 Eagles (wore maroon/brown with light blue/light grey trim)